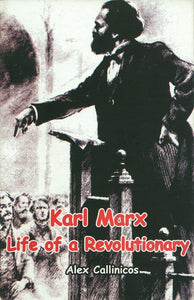 Karl Marx: Life of a Revolutionary
Regular price
Rs. 60.00
Rs. 0.00
Unit price
per
Tax included.
Shipping
calculated at checkout.
Karl Marx: Life of a Revolutionary By Alex Callinicos, Published 2007
Karl Marx was born on 5th May 1818 in Trier, an ancient cathedral town in the German Rhineland. Both his parents were Jesish, the descendants of many generations of rabbis; his family name had been Mordechai, then markus, before Marx. Marx's father, Heinrich, however, had converted to Lutheran Christianity in 1817, in order to evade a decree excluding Jews from public office. The Rhineland, although annexed by the reactionary Prussian monarchy in 1815, remained the most economically and politically advanced part of Germany, heavily influenced by the French Revolution.
---