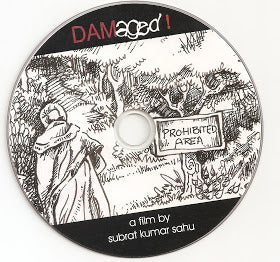 DAMaged!
Regular price
Rs. 300.00
Rs. 0.00
Unit price
per
Tax included.
Shipping
calculated at checkout.
by Subrat Kumar Sahu/ English, 73 minutes
'Damaged' is what they say, to describe their life today! ...The state says 'development'!
Travel to Kalahandi (in the state of Orissa in India), historically a food-surplus district, with a large number of mega 'development' projects, the district continues to be the ultimate face of poverty and starvation for the world's media.
This film picks the Upper Indrāvati Hydropower Project (built with a huge World Bank loan), in its attempts to rake in the 'development debate' that is conspicuously missing in public spaces today. Claiming to permanently end 'poverty' in Kalahandi, instead, it has uprooted almost 50000 indigenous people, mostly adivasis and dalits, who had a traditional and sustainable model of growth and rich civilizational ethos. The project has turned a 'sustainable economy of inclusive prosperity' into the 'farcical sport of growth statistics'. The film exposes how such projects (and now Vedanta's mining ventures) are, in fact, horrific tools of large-scale economic and 'cultural genocide'...
However, as it goes, people no longer take things lying down... So, those who had originally inherited the earth and kept the natural order inviolate for millennia are now out on the streets in attempts to protect their lives, livelihoods, identities, and dignity.
---