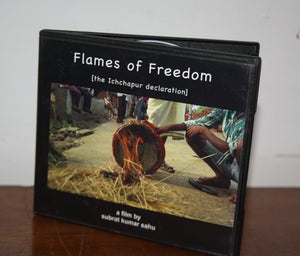 Flames of Freedom: the Ichchapur Declaration
Regular price
Rs. 250.00
Rs. 0.00
Unit price
per
Tax included.
Shipping
calculated at checkout.
by Subrat Kumar Sahu
Kosli & Odia, Eng-Subtitles/77mins/2016
About the Film:
 A sleepy, idyllic Indian village, Ichchapur in southwest Odisha's Kalahandi district, suddenly wakes up in a spontaneous uprising of Shudras (Dalits, Adivasis, and OBCs) against age-old, Brahmanic-Feudalism. The film captures the momentum and essence of the uprising over a span of more than a year, digs into history and cultural nuances, and builds in a narrative of the struggle through testimonies and voices of the very people in action.
About the Filmmaker: Subrat Kumar Shau works as an Independent Filmmaker, Journalist, and Researcher . His filmography up until this film includes 'I Sing, therefore I am!' (2008); DAMaged (2009), All alone and lonely (2010), Drops (2010), Sambhav: it is possible (2012), Mlechha Sanhaara: India's Kalki Project (2013). Previously, hee has worked in the print and publishing media since 1993 and has been a member of Delhi Platform and IndiaClimateJustice groups. Subrat has done a Film Appreciation Course at FTII, Pune and has a degree in Russian language and literature from Jawaharlal Nehru University, New Delhi.
---