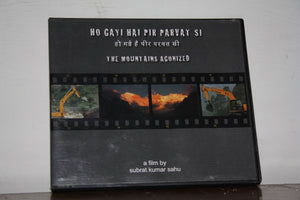 Ho Gayi Hai Pir Parvat Si (The Mountains Agonized)
Regular price
Rs. 200.00
Rs. 0.00
Unit price
per
Tax included.
Shipping
calculated at checkout.
by Subrat Kumar Sahu
(111 minutes/Hindi, English (with English subtitles)/ 2019)
About the film: This is a documentary film on the impacts of hydropower development in the Satluj Valley. The 111 minute film, shot between 2010 and 2017, travels from village to village on the landscape that falls under Seismic Zone IV and V, capturing visuals of colossal disaster and resident testimonies of the already deleterious impacts of many ongoing hydro-power projects on the local farm-based economies, on their precious water sources, causing deforestation, health hazards, landslides, flash floods, leading to desperate situations for the local communities and also threatening to drive them into dispossession and perpetual deprivation. Nature, of course, speaks for itself, and pits its own argument.
About the film maker: Subrat Kumar Sahu is an independent filmmaker and journalist based in New Delhi. He has more than 20 years of experience in television programming, filmmaking, writing, reporting, and copy-editing. He was an InfoChange Media Fellow for 2009.
---