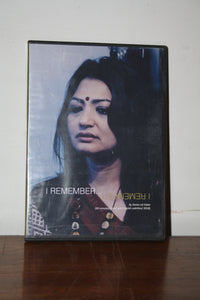 I Remember
Regular price
Rs. 300.00
Rs. 0.00
Unit price
per
Tax included.
Shipping
calculated at checkout.
I Remember
by Geeta Lal Sahai
(60 minutes/ Hindi with English subtitles/ 2018)
About the Film: Based on true cases, the film narrates the experience of a woman and her family as they come to terms with the early onset of Alzheimer's. Hopes, ambitions and dreams often fade away as their lives get disrupted in the absence of adequate institutional, social and emotional support.

About the filmmaker: Geeta Sahai is an award-winning filmmaker and co-founder of Heart & Soul Media and Founder-President Swayam Foundation (Non-Profit Organisation), India. Previously, she worked as a Consultant Programming Head – TV news channel and Programme Director, Radio Gandharv, Worldspace Satellite Network. As an independent writer-director, she has made many documentaries, written serial scripts and worked on a campaign for intellectual disability for a TV news channel. She has written short stories which have been included in the international anthology and have been awarded. Geeta Sahai specialises on mental health issues and gender. When not writing or filming, she is busy listening to the unheard, subdued, fearful and shocking narratives by 'nameless' women.
---