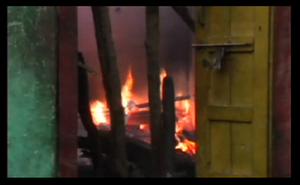 Mleccha Sanhaara - India's Kalki Project
Regular price
Rs. 300.00
Rs. 0.00
Unit price
per
Tax included.
Shipping
calculated at checkout.
(
125 mins/ Odia, with subtitles in English/ 2013)
About the 

film

: As described in Brahmanic scriptures, those who do not adhere to Vedic-Brahmanic principles are Mlechhas - the non-Aryan, impure, dirty barbarians. And, Kalki - the tenth incarnation of Lord Vishnu - would come and annihilate them all one day in order to cleanse the world of all impurities to establish the Vedic-Brahmanic Dharma, the Hindu Dharma! Whether Kalki has incarnated or not, Brahmanic feudal-fascist forces have already let loose the Kalki project, which the Indian State - that calls itself a 'sec
ular democratic Republic' - openly patronizes.

In search of the contours of India's Kalki Project, especially that involves organized violence on Dalit communities, the 

film

 travels through various villages in Balangir district in Odisha, which has been one of the most prominent laboratories of such terror. Apart from the Lathor carnage that had made headlines globally, the 

film

 captures in camera many other untold atrocities on Dalits, and also their resistance. 
---